News & Resources
In the Montgomery County Medical Society
"The Disposables" Exhibit Highlights the Tragedy of Physician Suicide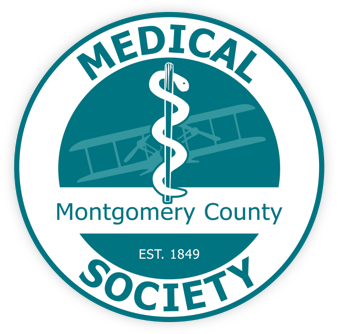 Provided by MCMS Administration
Disappearing Doctors partnered with the Ohio State Medical Association to present a special gallery exhibit program that is open to the public through October 20, 2023. The following summary was provided by Lisa Egbert, MD, who, along with John Lyman, MD, attended the Opening Session on behalf of MCMS. Please read below Dr. Egbert's poignant remarks describing this effort. And following her commentary is a .pdf file containing samples of the artwork displayed honoring four physicians whose lives were lost to suicide:
September 17, 2023 was National Physician Suicide Awareness Day. I had the honor of representing the Montgomery County Medical Society by attending the opening of "The Disposables" in Columbus. This powerful tribute featured the images of four physicians lost to suicide created in a multimedia format utilizing disposable medical waste as the medium. It was punctuated by testimony from the wife and daughter of one of the victims depicted, an ER doc who struggled with burnout and addiction yet turned his struggles into helping others by founding Helping People Recover, an addiction practice that continues to treat people today.
400 doctors die by suicide annually and about ⅔ of all doctors admit to being burned out. As a doctor, it resonated with me to hear that doctors care for others but not themselves, they put others first, but never themselves, and worst of all they're worried about admitting they need help for fear of losing their ability to care for others, whether by loss of their license or hospital privileges.
During her presentation, the director of the medical board spoke about her 14 year old daughter's question, "What are we going to do WHEN no one wants to be a doctor any more?" It was chilling to realize that I'm not the only one who asks that very question. Clearly, it is time to look hard at this problem and find solutions. We need to support our physicians and all healthcare workers across the country.
Fortunately, the Ohio medical board has recognized physician's fears of reporting any mental health or addictions with which they may be struggling and is removing from Ohio licensing applications all questions about mental health and substance use effective October 3, 2023. In addition, a new confidential monitoring program managed by the Ohio Professionals Health Program (OhioPHP) will open, and these issues will no longer be subject to medical board oversight. These tremendous wins, championed by MCMS in conjunction with the OSMA, will alleviate the fear of loss of license and privileges and hopefully encourage more physicians to seek the help they need. Additionally the Well-Being CARE Service, powered by the OSMA, remains available to any Ohio medical provider. This anonymous tool assesses the need for care and provides access to mental health support. It can be accessed here. 
Respectfully submitted,
Lisa Bohman Egbert, MD
Montgomery County Medical Society, past president
Ohio State Medical Association, past president
The Disposables is open to the public Sept 18 – October 20, 2023, Mon – Fri, 9 am – 5 pm ET.
COHatch
1581 N High St.
Columbus, OH 43201
Learn more at https://www.disappearingdoctors.com
#TheDisposables #DisappearingDoctors #OSMA